Our Professional Pet Lovers have what it takes to meet and exceed you and your pet's needs and expectations. Our knowledgeable and well trained staff is looking forward to making your pet's stay with us a memorable vacation that they will look forward to time after time. We constantly strive to make your pet's stay the best time they have ever had. Our staff truly loves pets and it shows in the personal attention each one of our guests receives. Don't take our word for it…look at our testimonials and see what our customers have to say.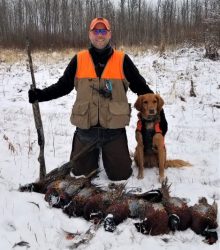 Northland Pet Lodge is a family owned and operated local business. It was founded in 2001 when Brothers Tom and Jeff McGrath began professionally installing underground fencing in the Brainerd Lakes Area and the Duluth Areas. In November of 2001 Jeff began selling pet supplies and dog food from his apartment in Crosslake. In May 2002 the dream began to grow with a 500 square foot retail store in downtown Crosslake. We soon realized the need for a first class pet boarding facility in the Brainerd Lakes Area. After touring kennels throughout the country, attending seminars and having meetings with professionals in the pet care industry, the dream of owning and operating a pet lodging facility started becoming a reality. In October of 2002 the ground breaking began. We opened the doors on the new pet boarding facility on July 1st 2003.
I want to thank my dad (Tom), mom (Helen), and brother (Tom jr) for helping make my dream a reality and for all of their hard work and effort to make Northland Pet Lodge the Lakes Area Premier Pet Resort. I could not have done it without your support. I want to thank our wonderful staff throughout the 20+ years for working so hard to make our guests feel at home and to have the best experiences ever.  Thank you to all of our customers both two and four legged that support us and patronize us, you are the best!
Jeff McGrath
Owner/Manager